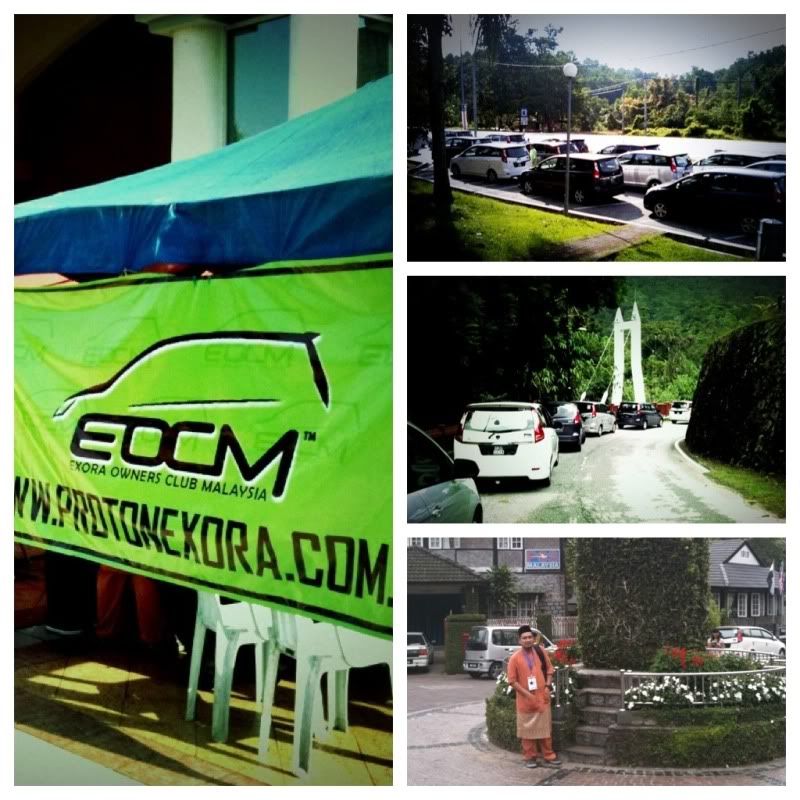 Dah lame aku x ikut knovoi, kali nih aku berkonvoi bersama mira exora aku mendaki bukit fraser. Misi kali nih bersama2 ahli exorian beraya kat fraser's hill hahah. Sperti yang dijanjikan, hari sabtu 2 oct 2010 aku bersama mira, crocx and bae (bini aku xmo ikut hahah segan siket orangnyer) antara yang paling awal tunggu kat R&R elmina. Pehh x menahan tok penghulu pon aku call lom kuar rumah lagi hahah. Lam 7.15 pagi kami mulakan perjalanan dari R&R Elmina ke Dataran Kuala Kubu Bharu tempat berkumpul secara rasmi.
0830 acara pendaftaran, suai kenal, menempek stiker dan briefing dari marshall ezanee dan bro asnor dari segi arahan pemanduan dan peraturan perjalanan supaya semuannya selamat. Majlis juga di sertai dengan doa oleh bro SBK bagi merestui aktiviti kali nih.
09.00 ++ acara medaki bukit fraser. Di awasi oleh marshall2 dan tonto2 yang baru dapat walkie talkie heheh.. Konvoi bergerak dengan selesa di pintas oleh exo media dari RTM. Insyallah kuar tv ooo hehehe.. Dalam 1030 sampai ke gate untuk ke bukit fraser. Since gate bukak 11.00 am so leh lepak amek gambo muntah dan segarkan diri untuk melayan lap tak hengat punya sejauh 3 kilo jerk..
Selesai acara mendaki maka tibalah kat bukit fraser. Since ada 73 buah Proton Exora tengah baiek mendaki dan jalan agak kecik so kami di minta melalui keseluruhan bukit fraser sebelum parking dekat area dewan tuh haha ok gak tuh at lease tau gak ape ade kat sini.
Dah sampe ape lagi acara amek gambo laa dan disusuli dengan acara makan yang mewah. Since makanan pon port luck so banyak ler pehhhh.. dah ler sejuk.. sure lapor giler hahah sambil tuh layan sembang sampai lapor balik hahahaha..
Since acara pon abis around 230 lebey so ade about 1 hrs plus untuk lepak kat atas since the next gate untuk turun adalah kul 4 pm. So lepas segarkan diri kat masjid, solat laa tido laa mandi laa then lepak membeli belah kat kedai cenderahati emm budak eocm gak so dapat ler diskaun hahah... peh tuh apo laie layan lap sampai KKB huhu... Before that singgah kat tepi empangan for sesi fotography haha. Balik laa ikut jalan hala ke rawang sekali jem tak hengat 2 jam aku sangkut kat situ pehhhhh giler laa.. tapi event kali nih memang best. Insyallah will join another trip to East Cost for year end Trip huhu!